SHORT STOCKING 280 DENIERS STRONG COMPRESSION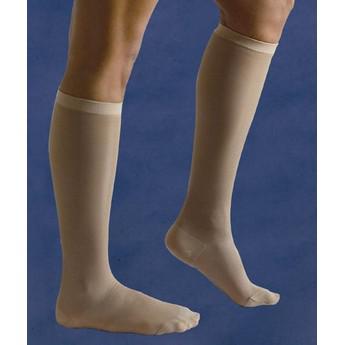 SHORT STOCKING 280 DENIERS STRONG COMPRESSION
Reference: 7203
Short stocking with maximum compression in the ankle and minimum compression in the thigh (decreasing) for the prevention or treatment of venous insufficiency. They attenuate the risk factors and curb the evolution of the illness.
Effects:
Relax short stocking for tired legs and with pain. It helps to improve the circulation. Reduce the swelling. Relief varicose vein, venous inssufiency, antithrombotic prophylasis.
Indications:
Prevention of varicose vein, mild chronic venous insuffiency, trombophlebitis and symptomatic varicose veins.
| SIZE | Ankle (cm.) | Thigh (cm.) |
| --- | --- | --- |
| 2 | 18 to 19 | 30 to 31 |
| 3 | 20 to 22 | 32 to 34 |
| 4 | 23 to 25 | 35 to 38 |
| 5 | 26 to 28 | 39 to 41 |